Discover more from The Hagakure
Sense-making for tech leaders in a complex world.
Over 2,000 subscribers
The Weekly Hagakure #18
"The only way to win is to learn faster than anyone else." — Eric Ries
I have been interviewing with a number of companies over the last few weeks and it's been an interesting experience. In interviews, it's important the candidate asks their own questions and there's two I particularly like to ask:
"What is going really well at the moment?"
As Engineers, we tend to focus (and thrive) on problems and figuring out the respective solutions. But I find it equally important to know what's working well and why that is the case. It's also good insight on what my interviewers are appreciative of.
"If you had a magic wand and could magically change one and only one thing right now, what would that be?"
I can't claim credit for inventing this question, but it's my way of asking what's not going well. Narrowing it down to one thing forces people to take a good moment to think. And what bubbles up tends to truly be their biggest frustration.
This week I'm sharing below a blog post of mine detailing a few things I believe can help folks interview well. I hope you enjoy it and would love to hear your feedback (and your own tips) in the comments.
---
3 Articles
✍️ How to Radically Improve Your Chances of Landing the Right Tech Job For You
They say you learn the most on the job. I believe that you also a learn a lot looking for the job. In this article, I elaborate on a few aspects that can help anyone become a stronger candidate. None of these are about developing your technical skills (you should do that regardless) but rather about empathy, curiosity and mindset.
✍️ Finding Your VP of Engineering
As I'm actively searching for precisely these roles, this post hit particularly home. Companies tend to take the path of least resistance: we want to do X, so we want to hire someone that did exactly X. But as Michael Wolfe points out here, that makes the candidate pool too narrow or inexistent. When so many companies are fraught with scaling issues and desperate for strong engineering leadership, a lot are probably making their lives way harder than necessary.
✍️ Debugging engineering velocity and leading high-performing teams
This comprehensive post by Smruti Patel, Sr. Engineering Manager at Stripe, reads like a clear roadmap to high-performance in engineering teams. She does an excellent job of breaking down the overall challenge while always connecting things to user and business value. If you're struggling to improve the performance in your team(s), this piece serves as an excellent diagnostic and improvement tool.
---
2 Podcasts
🎧 All About Product Strategy with Silicon Valley Product Group's Marty Cagan
Ever tried to put together a technical strategy without a product strategy being in place? Yeah, tough… and makes little sense. In this "all-killer-no-filler" 30' conversation, Marty Cagan talks, among other things, about why it's so hard for companies to have a proper Product Strategy, and why engineering teams end up as feature factories, instead of empowered teams.
🎧 Finding Career Opportunities Through Experimentation with Josh Doody
This conversation between Marcus Blankenship and Josh Doody is all about decision making: improving decision quality by focusing on the decision itself (instead of the outcome), assessing a distribution of possible outcomes (instead of a binary good vs. bad), using risk as a tool, and experimenting to learn -- instead of throwing mud at the wall and seeing what sticks.
---
1 Book
📚 Escaping The Build Trap by Melissa Perri
One of the key points Marty Cagan makes in the podcast episode above is that Product teams are too often disempowered. He believes this happens not out of bad will, but rather because they are made to serve the needs of the business, instead of the needs of the customers. You may be asking, "isn't that one and the same?"
Unfortunately, too often, not really. Internal departments, such as Sales, Marketing, Finance, Customer Support and others, have a long list of things they need Tech for. And it's solving their problems which inevitably leads to Product & Engineering teams becoming highly-contended execution machines rather than creative problem solvers for the actual customers. Enter what John Cutler calls the "Feature Factory".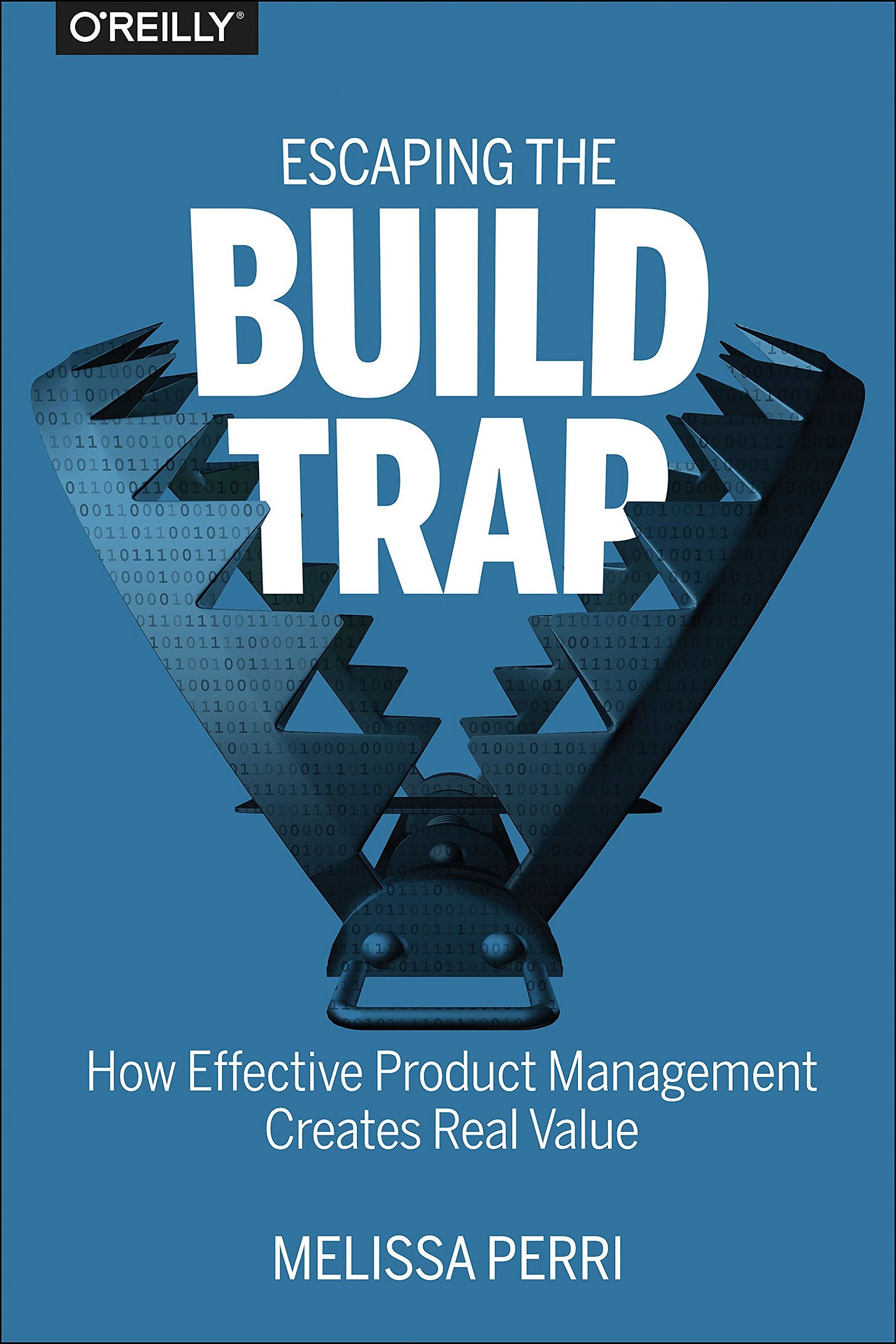 Getting out of the feature factory is what Melissa Perri here calls Escaping The Build Trap — changing gears from "building stuff" into "understanding the value of stuff". One jaw-dropping moment for me came when Perri writes that Scrum has nothing in the way of determining value, measuring product success, or making sure the right thing is getting built. She admits Product Management and Scrum can work well together, but Scrum alone is not the answer. And Product Management doesn't depend on Scrum either.
Another deep insight in Escaping The Build Trap is around "strategy", a topic to which an entire chapter is dedicated to. Perhaps one of the most overused buzzwords in the industry, Perri nails it by arguing that good strategy is not a plan, but a framework that helps you make decisions. She draws a compelling picture of what I like to call "organizational connective tissue": teams on the ground making decisions based on a product strategy, which in turn ties in to a business strategy, ultimately in service of the company's long-term vision.
Granted, all of it easier said than done. But most companies, for a number reasons don't even attempt to create this clarity. It is no wonder that lack of alignment, slow decision-making and command-and-control structures plague so many tech businesses. The answer is usually "OKRs!" because "alignment!" and "moonshots!" But Escaping The Build Trap shows that there needs to be a lot more meat in that bone.
‼️ See also this Twitter thread with my 25 takeaways from Escaping The Build Trap. ‼️
---
🙌🏽 Thank you for reading! Enjoyed this week's edition? Have feedback on how I can make this more valuable to you? I'd love to hear it — my DMs are open on Twitter or just write a comment below.
✍️ Find some of my own ramblings on tech and org stuff over at The Evolutionary Manager.
👉 You can also follow me on Twitter @prla